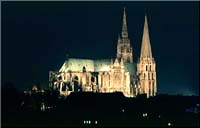 Pilar Cabrera has visited after her Concert in Paris
the organ at Chartres Cathedral. She was introduced
to the instrument by organist Laurent Bouis.
The artist enjoyed playing Spanish works
from composer Gerónimo Giménez 1854 - 1923
and famous Miguel Pérez, born in 1976 in Málaga.

Organist at Chartres Cathedral:
Organiste titulaire - Patrick Delabre, Paris.